A nearly 27-year-old cat from England has been named the world's oldest living cat by Guinness World Records.
Flossie, the record-breaking feline, received verification from the world record reference guide, on Nov. 10, according to a press release.
Guinness World Records says Flossie was born on Dec. 29, 1995, and she received her verification at the "nyan-tastic age of 26 years 316 days."
'WORLD'S OLDEST DOG,' PEBBLES, DIES AT 22
The world record guide claims Flossie's age is "equivalent" to about "120 human years."
Flossie's world record application was submitted to Guinness in August by Cats Protection, a U.K.-based cat welfare charity, which had been housing the black and brown senior cat after her previous caretaker relinquished ownership.
"We were flabbergasted when we saw that Flossie's vet records showed her to be [around] 27 years old," Naomi Rosling, branch coordinator at Cats Protection, said in a statement.
Flossie lived at the Cats Protection "Tunbridge Wells, Crowborough & District" branch in Royal Tunbridge Wells, a town in Kent, England.
Flossie is said to be in "good health" despite being "poorly sighted and deaf," according to Guinness World Records.
19-YEAR-OLD SHELTER CAT ADOPTED AFTER HIS BIRTHDAY PARTY GOES VIRAL: 'OPEN YOUR HEART'   
She was recently adopted by Vicki Green, an executive assistant who reportedly has a soft spot for senior cats.
Green told Guinness World Records that Flossie is "playful," "curious" and has a "gentle disposition."
"I knew from the start that Flossie was a special cat, but I didn't imagine I'd share my home with a world record holder," she continued.
Flossie's journey to Green wasn't a straight shot, according to Guinness World Records.
GIANT 6,000-POUND SUNFISH SETS WORLD RECORD AS LARGEST BONY FISH: REPORT
Her first owner, an unnamed Merseyside hospital worker, reportedly rescued her from the street and cared for Flossie for 10 years until their death.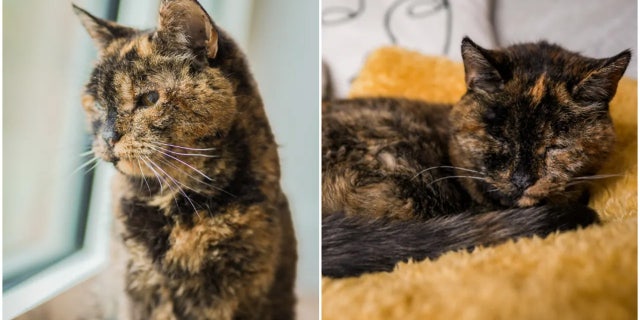 Flossie was taken in by her first owner's sister, and she remained with her second owner until their death 14 years later.
The twice-orphaned cat was adopted by her previous owner's son and remained with him for three years, according to Guinness World Records.
The son reportedly handed Flossie over to Cats Protection in hopes that she'd receive better care from the feline charity.
CLICK HERE TO GET THE FOX NEWS APP
Green told Guinness World Records that Flossie was "loud" and "confused" during her first few nights at her new home.
"She sleeps through the night now, snuggled on the bed with me," Green said, in a statement. "Our new life together already feels like home for Flossie, which makes me so happy."
Flossie isn't the only senior pet to notch a world record this month.
CLICK HERE TO SIGN UP FOR OUR LIFESTYLE NEWSLETTER
Guinness World Records also announced the world's oldest living dog is an American Eskimo and Chihuahua mix named Gino Wolf from Los Angeles.
FOLLOW US ON FACEBOOK FOR MORE FOX LIFESTYLE NEWS
Gino, 22, received his world record verification on Nov. 15, according to Guinness World Records.