Former CIA Director and Secretary of State Mike Pompeo sounded off on Rep. Adam Schiff after the prominent Democrat was formally removed from his seat on the Intelligence Committee. 
Having served on the committee himself as a congressman representing Kansas, Pompeo said House Speaker Kevin McCarthy was "exactly right" to remove Schiff.
McCarthy removed Reps. Adam Schiff and Eric Swalwell from the committee Tuesday, specifically pointing to Schiff's repeated lies to the public. McCarthy also removed Rep. Ilhan Omar from the Foreign Affairs Committee.
Pompeo, however, took particular issue with Schiff and argued he should be "nowhere near" classified information. 
HOUSE SPEAKER MCCARTHY REJECTS JEFFRIES' DEMAND TO REAPPOINT SCHIFF, SWALWELL TO INTELLIGENCE COMMITTEE
"Adam Schiff lied to the American people," Pompeo said on "Outnumbered" Wednesday. "During my time as CIA director and secretary of state, I know that he leaked classified information that had been provided to him." 
Pompeo told panelists that Schiff nearly "ruined" the committee while he was serving as chair.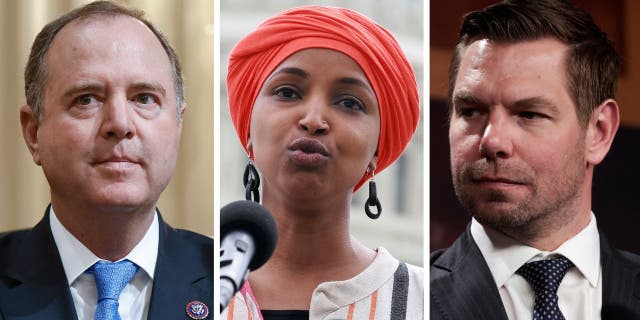 In a press conference Wednesday, the ousted Democrats called their removal an act of "revenge" and an "unfair smear." But Pompeo said Schiff couldn't be trusted on the committee.
"When we provided information to him and to his staff, it ended up in places it shouldn't have been with alarming regularity," Pompeo explained. "In the end, I decided, I held back information from them as a result."
TWITTER USERS DUNK ON REP. ADAM SCHIFF AFTER HE IS BOOTED FROM INTELLIGENCE COMMITTEE: 'LYING, LEAKING CLOWN'
Though it was Pompeo's responsibility as secretary of state to work with members of the House, he said Schiff's behavior was "troubling" and didn't feel comfortable providing information.
Pompeo explained that House members have a responsibility to protect sensitive information and an obligation to keep it in the right places. Schiff, as Pompeo pointed out, chose instead to spread unfounded political talking points. 
CLICK HERE TO GET THE FOX NEWS APP
"I watched the House Intelligence Committee under the leadership of Adam Schiff. I watched him denigrate and lower its ability to actually perform its function. When he was out talking about the Russia hoax, going on to say that the Hunter Biden laptop was Russian disinformation, knowing that it almost certainly was not," Pompeo said. 
"That's indecent and dangerous and it affects every American."